Aeroseal Duct Sealing
Did you know that over 50% of the average home's energy bill goes directly to cooling and heating costs? That's hundreds of dollars every year! And the worst part is, most of that money is being wasted due to air duct leaks.
Fortunately for homeowners, there is hope! With Aeroseal duct sealing from Bay Breeze Air Conditioning and Heating, you can keep your home cool and your energy bills low. Learn how Aeroseal duct sealing works and why it's the best choice for your home.
CONTACT US
Call

(727) 605-4573

for quick service!
"When your air goes out and you need help fast Bay Breeze delivers. The experience with Todd and his team at Bay Breeze was top notch and tech(Angus) was great!"

Chris C.

"When your air is out in August and you live in Florida (Tampa), you need help fast and hope youre going to be satisfied. The experience with Todd and his team at Bay Breeze."

Brian H.

"Company was on time, came within the given time frame."

Kayla P.

"Great service all around. The girls in the office were very helpful. The technician was very informative with the whole process."

Dustin M.

"The staff was amazing! Everyone was very friendly and informative."

Mandi N.
On average, 30 cents of every dollar spent on heating and cooling is wasted due to leaky ducts. Nationally, that's nearly $25 billion wasted every year. But the negative effects of duct leaks don't just hurt your pocket.
Leaky ducts let mold, dust and other allergens enter your home. This harms your overall indoor air quality in St. Petersburg, FL and exposes your family to harmful pollutants. It is especially dangerous for anyone in the home suffering from allergies or asthma.
Until duct leaks are dealt with, your air will never be clean, and your energy bill will only continue to rise.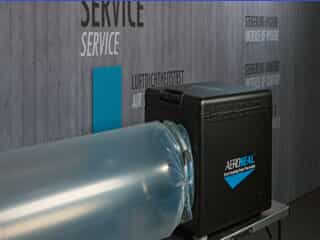 Request effective & lasting Aeroseal duct sealing in Clearwater by contacting us online or calling (727) 605-4573 today!
1.

Trusted, Reliable Pros

Our certified technicians pride themselves on legendary customer service and a comprehensive diagnosis.

Our family has been serving Pinellas, Hillsborough and Pasco County's air conditioning and heating needs since 1972.

We aim to accommodate emergency services whenever we can, so call us ASAP.
We Hire Only The Best
EXPECT THE BEST SERVICE
All employees undergo regular technical training and have to pass rigorous tests in order to be considered for employment with us. We also require extensive background checks and drug screenings so that you can be sure that only trustworthy air conditioning repair servicers and installers will come to your door.